History of JHyM Establishment
The government, working on the development of hydrogen as a next-generation energy source, designed a policy to promote the hydrogen supply infrastructure for Fuel Cell Vehicles (FCV) expansion in "The Strategic Road Map for Hydrogen and Fuel Cells" and "Basic Hydrogen Strategy" in order to build a social basis that should utilize hydrogen. Along with this initiative, private companies, such as *HRS companies, automobile manufacturers, financial institutions and other stakeholders decided to cooperate.
*HRS means Hydrogen Refueling Stations; HRS companies install and operate the stations.
As the result, in February 2018, the Japan Hydrogen Station Network Joint Company (Japan H2 Mobility, abbreviation: JHyM) was established. To accelerate the development of HRS in this early stage of FCV expansion, we JHyM will contribute to further facilitation of FCV and HRS, and improve convenience for FCV users.

JHyM's VISION
To create virtuous cycle between FCV and HRS;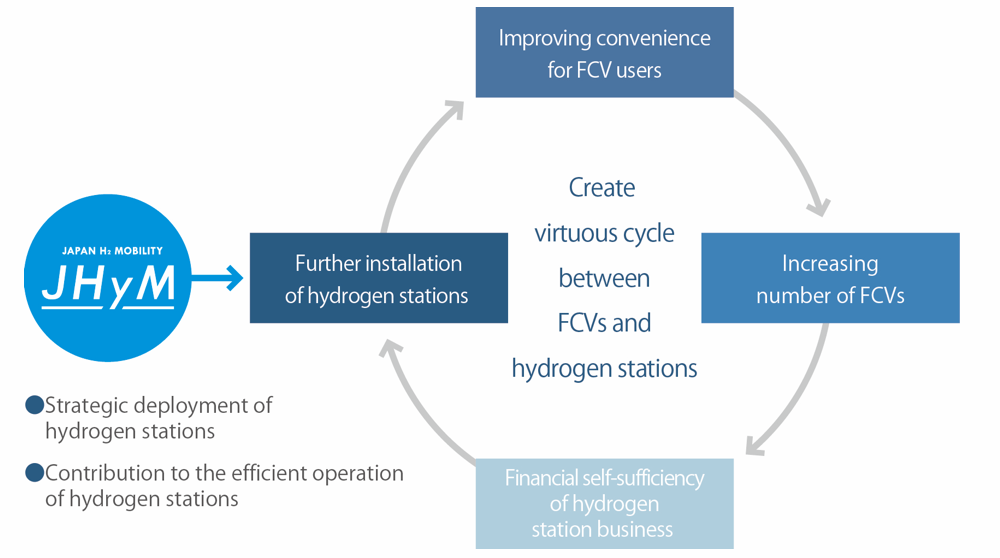 Targets for FCV and HRS Expansion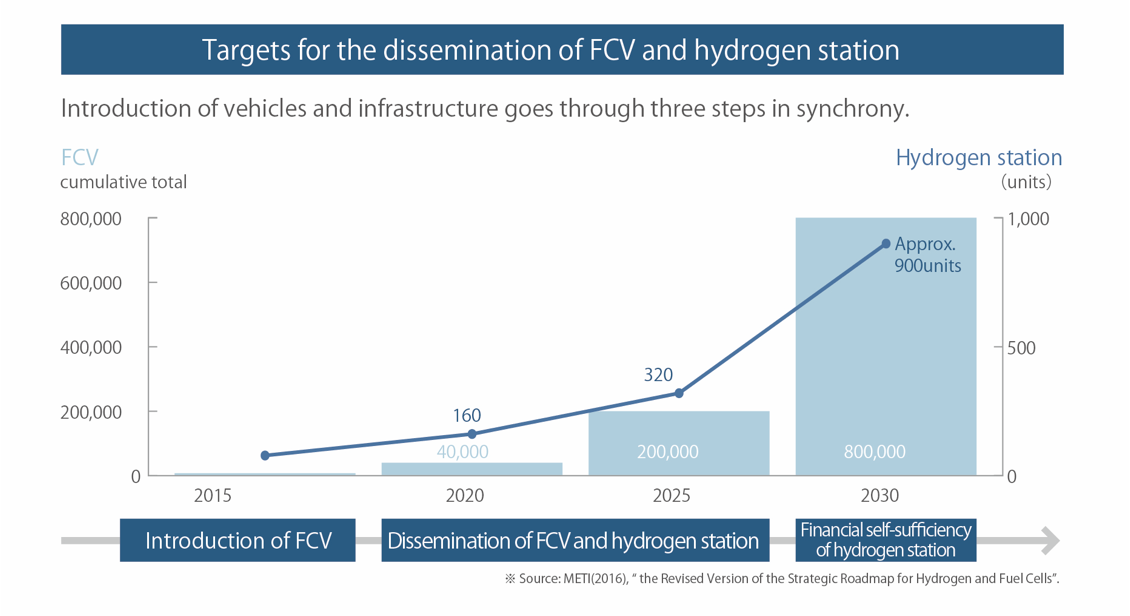 JHyM's MISSION
Strategic Deployment of HRS
Currently, the hydrogen station network has begun to see more extensive in the four major metropolitan areas. Hereafter, we will further extend the network nationwide, from point to line, line to plane.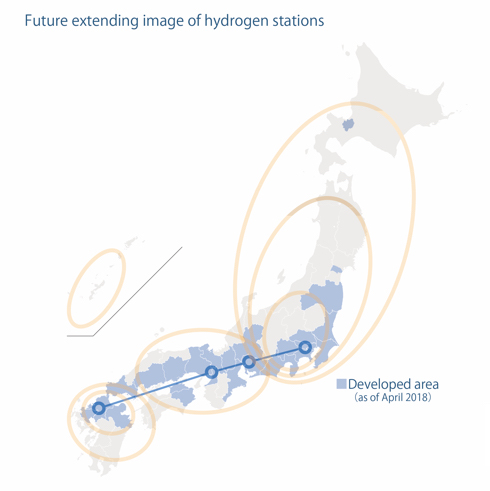 Contribution to Efficient Operation of HRS
Owning and installing HRS, JHyM collects and utilizes HRS's installation and operation information; that can be one of contributions to efficiency in HRS operation.
– Improvement of Convenience for FCV users
JHyM also aims to improve convenience for FCV users; by collecting each HRS information, JHyM optimizes the hydrogen station network more conveniently, such as operating day flexibility, etc.
– HRS Cost Reduction and Deregulation
Collaborating with external organizations such as industry associations, JHyM works on reducing the cost of HRS through the standardization of equipment and the deregulation for efficiency.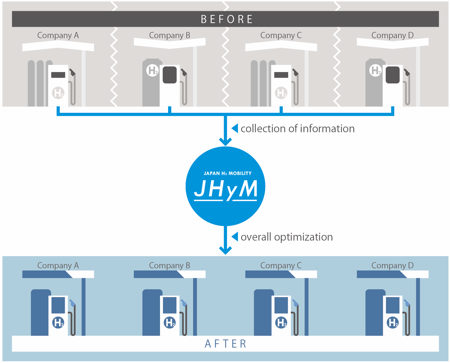 Benefits for HRS Companies Participating in JHyM
JHyM's business schemes as below;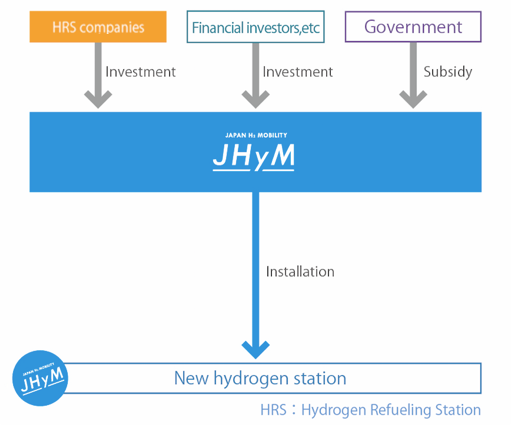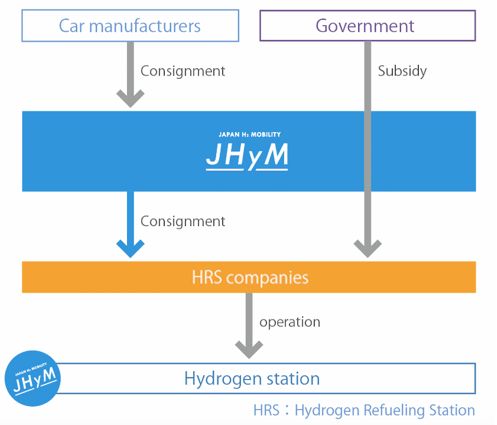 – Reduction of the Initial Investment in HRS Installation
In addition to subsidies from the Ministry of Economy, Trade and Industry's "Hydrogen Supply Facility Installation Project for Fuel Cell Vehicles," it is possible to reduce the initial investment in HRS installation by utilizing investments from financial investors.
– Reduction of HRS Operation Cost
In addition to subsidies from the Ministry of Economy, Trade, and Industry's "Fuel Cell Vehicle New Demand Creation Activity Support Project," HRS companies can utilize entrustment agreement with JHyM, which can be utilized partly also on HRS prior to the establishment of JHyM. Through this scheme, HRS companies can get the long-term financial support.
Furthermore, JHyM gives more financial support for small and medium-sized enterprises. By investing more money than usual in HRS installation, we will encourage them to enter the HRS business.
JHyM's Participation Requirement
Install at least one new HRS* during Phase I
Pay annual fees to JHyM
*HRS with a prospect for financial self-sufficiency
From the Guideline to Construction
Each HRS companies should individually submit their HRS installation plans according to JHyM's Annual HRS Development Planning Guideline formulated every fiscal year. After their plans approved, HRS companies and JHyM jointly apply for subsidies. HRS companies construct their HRS, and after completion JHyM owns them while HRS companies operates them in their brand.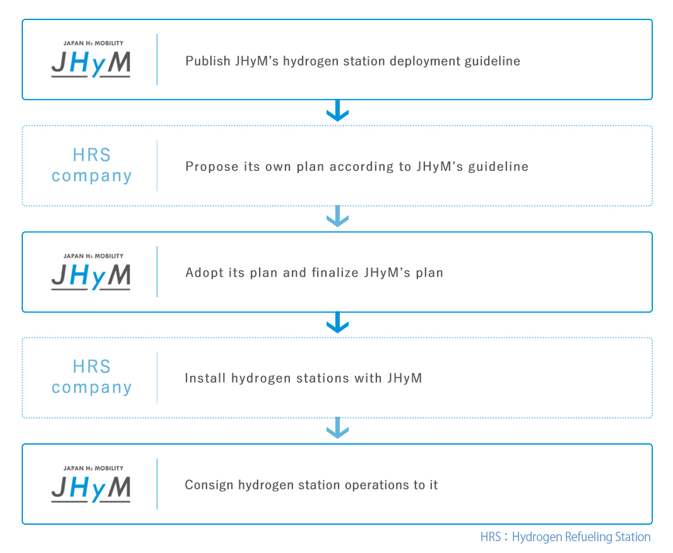 The HRS Development Planning Guideline in Phase I
Considering the following two points, JHyM aims to install a total of new 80 HRS by the end of March 2022.
Towards FCV's dramatic expanding, JHyM aims to optimize the deployment of HRS to maximize FCV demand and ensure supply capacity that can meet the hydrogen demand.
Focusing on major cities and critical points of transportation, the strategic deployment of the hydrogen station network is commencing from the four major metropolitan areas and expanding from point to line, line to plane with improving user convenience and expanding hydrogen mobility.
---